O
udor-style homes have a look that's all their own, with an emphasis on quality materials, craftsmanship, and unique facades.
The style became popular at the beginning of the 20th century in places like the suburbs of New York City and Philadelphia, and in California's Bay Area. These days, buyers are finding ways to update the design without losing the classic look.
Steeply pitched roofs and gables, slate roofs, and partially timbered or stucco facades are all hallmarks of the Tudor-revival style, according to Kevin D. Murphy, the author of The Tudor Home (2015) and the chair of Vanderbilt University's Department of History of Art. "They have diverse shapes and layouts and plans. They're not just square boxes," he says. "They are more picturesque.
The architecture hearkens back to 16th-century England, appearing in the U.S. in the late 1800s, Murphy notes. It was a go-to style for affluent home builders until the Depression, and part of that movement was a focus on quality materials.
"They emphasize simple, heavy timber construction, leaded glass windows, and prominent use of brick and stone in many cases," he says. "On the interiors, you'd find a lot of tile, heavy beamed ceilings, big fireplaces, iron work, and pronounced hinges and latches on doors—all of these features that display craftsmanship."
That craftsmanship was one of the elements that drew people to the style. "One of the things that was appealing about the Tudor revival was that high level of handcraftsmanship, as opposed to the modern period, which is sometimes seen as one in which physical building materials were turned out in factories and didn't have that kind of human touch," Murphy says.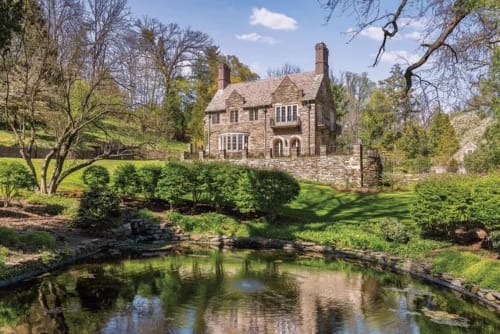 $2,795,000
Property ID: W48BDQ |
Kurfiss Sotheby's International Realty
For many buyers, those details give Tudors a timeless appeal. For example, agent Melanie Stecura of Kurfiss Sotheby's International Realty recently sold a five-bedroom, seven-bathroom home in the Chestnut Hill neighborhood of Philadelphia for $2.5 million.

​​​​​​​The stone-clad house dates to 1929 and sits on nearly three-and-a-half landscaped acres. The most recent owners brought in an interior designer from London to revamp the interiors and did extensive work on the grounds, but kept the facade true to the original, Stecura says. "It brings out the best of the old Tudor style," she explains. "It's light, it's bright, it has tons of the old leaded windows...It's really just beautiful."

Traditional Tudors that date to the 1920s sometimes have a reputation for being dark, but that's not always true, says Leslie McElwreath, a Sotheby's agent in Greenwich, Conn. "That preconception does not always meet reality," she notes. "People are often pleasantly surprised."

That was the case with a six-bedroom, 11-bathroom Tudor home McElwreath sold in August for $8.1 million. Sitting on more than four acres, it has views of the property's pond, lawns, and formal gardens.

Many Tudors in Greenwich have spectacular locations because they date back to the early 1900s, according to McElwreath. "Builders then had their pick of properties," she explains.

The historic home was renovated in 2014, with architects keeping the traditional look while updating its technology, opening the common spaces, and replacing the windows. "The original single-pane windows are not very energy efficient," she explains. "Black casement windows are often incorporated into Tudors to maintain the integrity of the structure while allowing more light in and making them more energy efficient."
$3,795,000
Property ID: N8TW2S | Sotheby's International Realty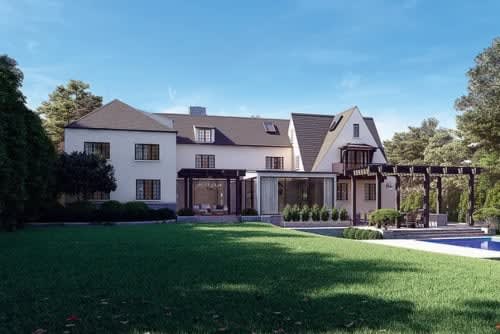 Renovations to historic Tudors often include a lot of work on the interiors, according to Susan McDonnell, an agent at Julia B. Fee Sotheby's International Realty in Rye in Westchester County, N.Y.

​​​​​​​Areas such as the Westchester Country Club, Sterling Ridge, and Green Haven have a robust stock of these homes, she adds.

"You get people buying the 1928 to 1929 Tudor...and then modernizing them on the inside," she says. "Maybe opening up some of the rooms, expanding the back, adding new windows, but keeping the integrity of the house." New builds in places like the Westchester Country Club tend to be inspired by the Tudor look, McDonnell notes.

"There's a couple of builders that have been building more of a modern Tudor on the club grounds, in keeping with some of the older ones that are there," she explains. "They try to keep the grace, the charm, and the grandeur of the old-world style, and marry it with some of the convenience and sophistication of today."

In Scarsdale, N.Y., agent Sandra Goldstein, also of Julia B. Fee Sotheby's International Realty, is representing a Tudor home that's undergoing a major revamp. The home retains the steep gables and exterior stonework on the front, but the back walls will be replaced with floor-to-ceiling glass.

"We're doing the glass extension in the back so what you have is always airy, light-flooded living," she says. The six-bedroom, eight-bathroom residence, listed for just under $3.8 million, will have all the amenities of a modern home, Goldstein notes.

That includes a chef's kitchen designed by Leicht with Thermador appliances, four en-suite bedrooms, including the primary suite featuring 14-foot ceilings and a bathroom with a dual-steam shower and heated flooring, and outdoor living spaces such as the summer kitchen, pool and spa, and fire pit.

The Bay Area in California is also known for its Tudors, according to Murphy. "The Tudor revival that gets developed there is very much melded with the Arts and Crafts movement. The styles melded," he says, adding that both styles have a commitment to materials.

Last January, Sotheby's International Realty agent Wendy Storch sold a five-bedroom, five-bathroom Tudor in San Francisco for $3.15 million. It had a smaller layout than some East Coast Tudors, but it featured large windows and a restored stucco facade.

Period details include the stone fireplace, beamed ceilings, and plaster work, but the layout has an open plan, and the kitchen, bathrooms, and other areas were updated. In addition, the primary bedroom suite has retractable doors leading to a private deck to allow for indoor-outdoor living.

​​​​​​​"It was revised by a gifted architect who treasures classic styles," Storch says. "California has a wonderful store of this style."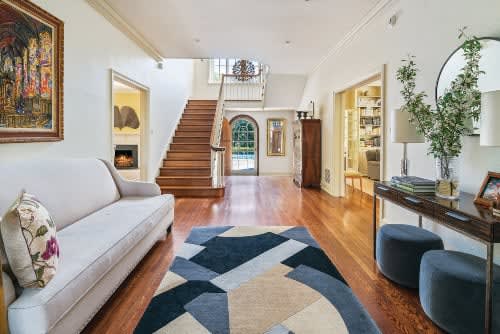 THOUGH THE CHESTNUT HILL HOUSE WAS BUILT AROUND 1929, ITS INTERIORS, ARE VERY MODERN.