F
or many people, the "office" isn't a corner office in a high-rise building—it's at home. With the recent events shaking up how business is done, more and more people are finding themselves working from their living spaces.
Working from home can be a tough transition for those unfamiliar with and unprepared for it, but there are a few ways to furnish your home for a better remote work environment. From rearranging furniture and seeking out more ergonomic solutions to creating an inspiring and motivating space, these tips will help the remote worker set boundaries between home life and work life, even if they're both happening within the same four walls.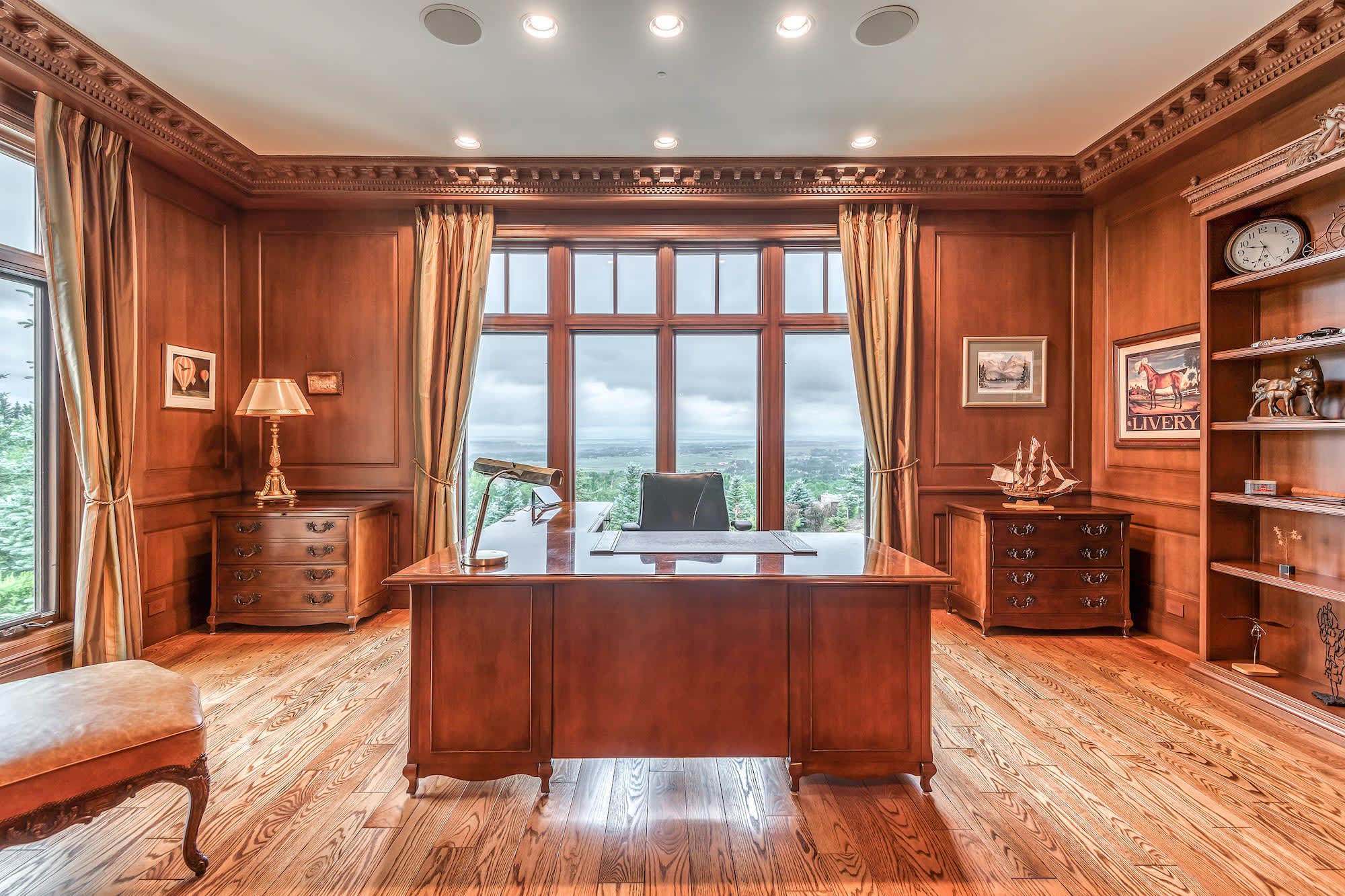 25130 Escarpment Ridge View, Rural Rocky View County, AB
Upgrade Your Desk and Chair
The right equipment can make a home office a sanctuary. When it comes to selecting a good chair, it's best to choose one that has been designed to maximise good posture and suits your body type. Chairs with adjustable lumbar support—as well as a flexible seat and armrests—let you choose the most comfortable settings, while materials like high-tech mesh provide full support and help to regulate body temperature. You're likely to spend a lot of time at your desk chair: pick something that is both functional and stylish.
When it comes to desks, work surfaces with adjustable height capabilities allow you to take much-needed breaks from sitting, while materials like marble and reclaimed wood will keep work stations from feeling too corporate. In your home office, comfort should be your top priority, and finding the right chair and desk is an investment in your health and wellbeing that will help keep you at your best, most productive self.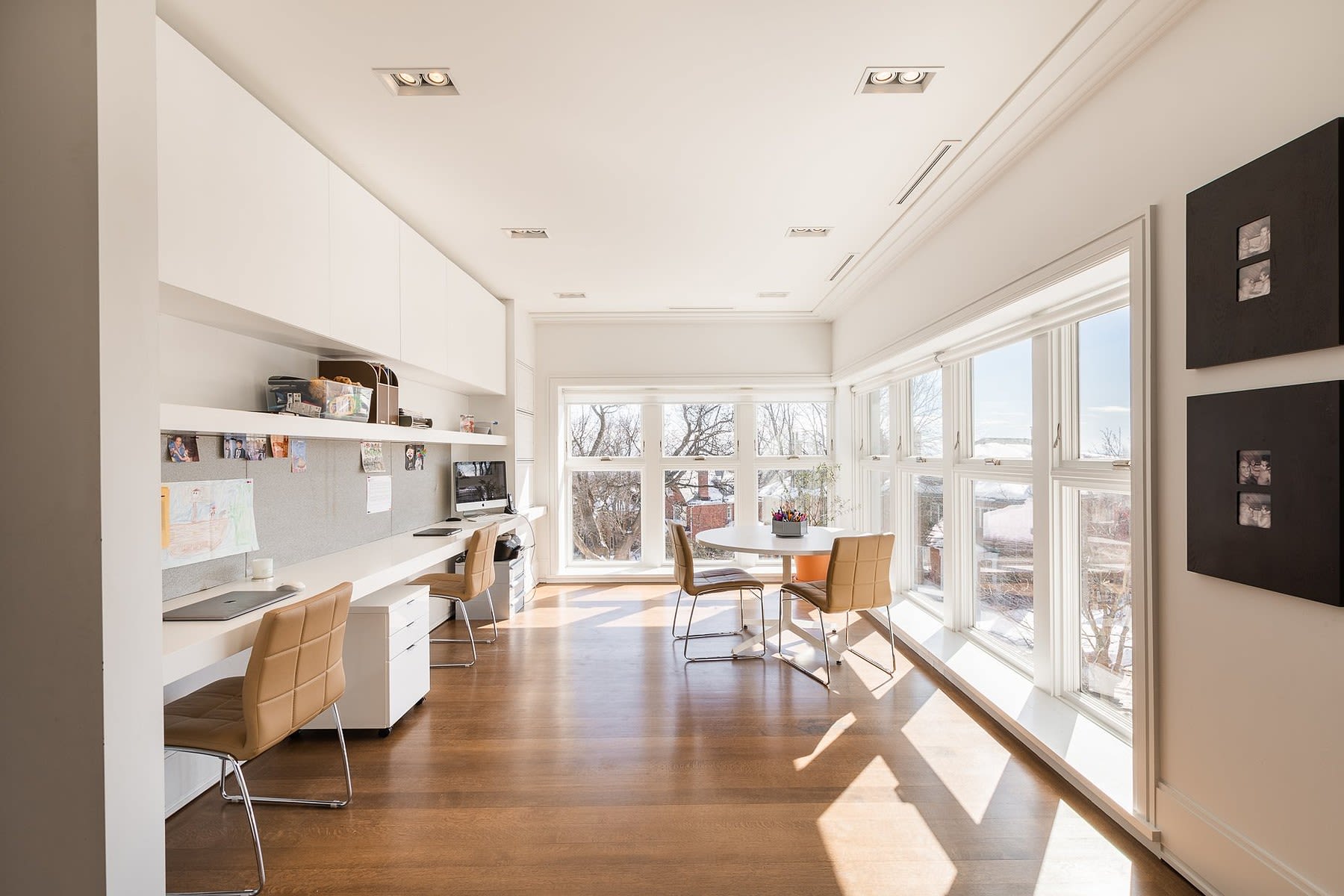 3712 Boul. The Boulevard, Westmount, QC
Prioritize Your Tech Setup
As meetings and conference calls move from in-person to online, a good tech setup becomes a home office necessity. Check that you have a strong internet connection, upgrade your service if needed, and work with your employer to ensure you have all the technology required to do your job well. Working with a monitor and keyboard will be much better for your posture than a laptop, especially if you're able to configure the screen for eye-level work.
If you'll be making frequent conference calls, make sure your computer is up-to-date and has the right software and capabilities for programs you'll be using often. Now is also a good time to move to using virtual desktops and implement cloud-based document storage, if you haven't already, so you'll be well-equipped to work from wherever you are.
Good lighting is essential in a home office: assess the amount of natural light that your space receives throughout the day, and install soft, flattering overhead lights. Avoid fluorescents. In a home with more than one working family member, create spaces so that you can all take calls comfortably—this may mean commandeering a walk-in closet or den as an overflow work space.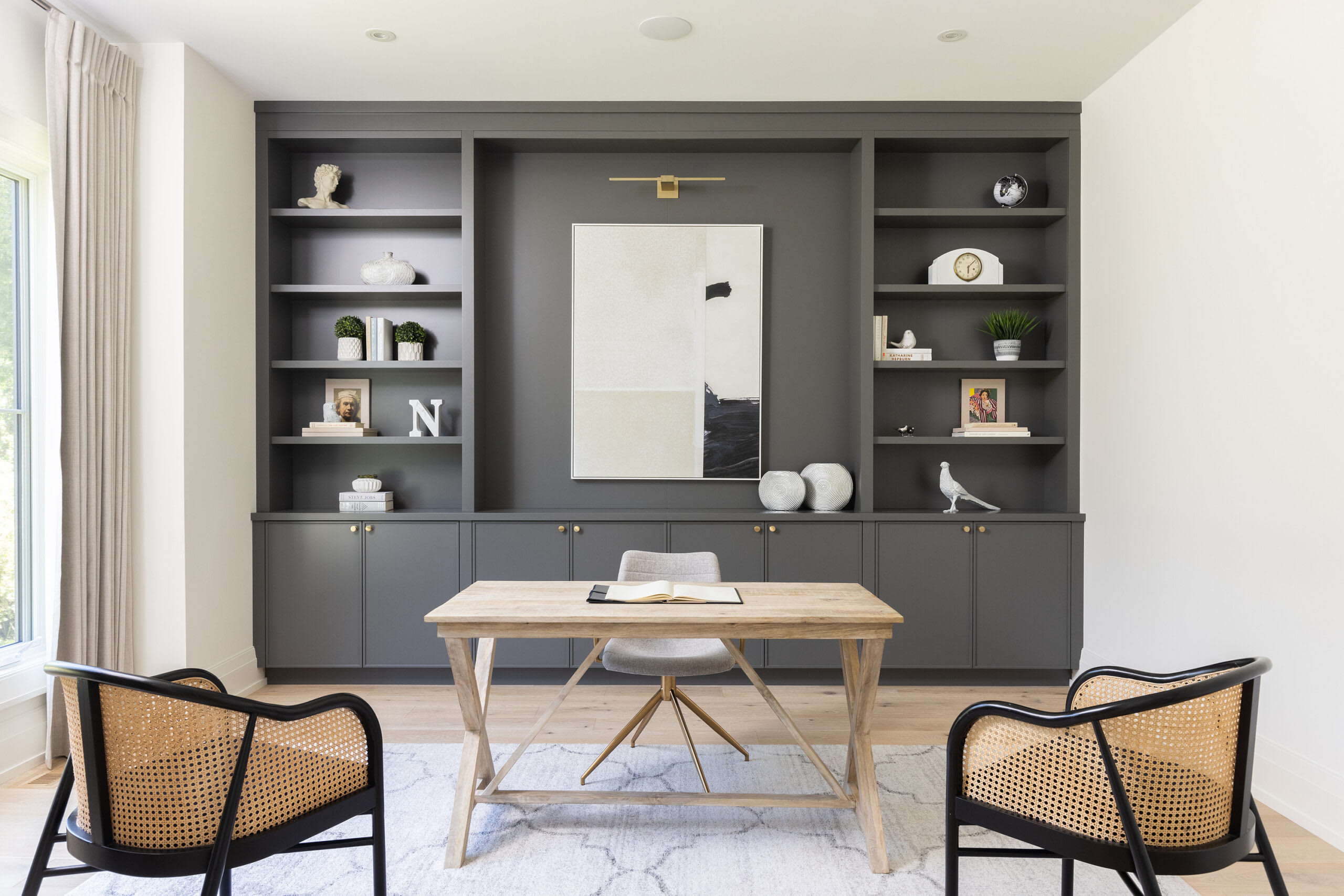 2059 Glenforest Crescent, Oakville, ON
Add Inspiring Artwork and Decorative Plants
As much as an at-home office space needs to be functional, it should also encourage creativity and foster mental wellbeing. Painting the walls a soothing color and hanging art will contribute to a calming work environment. Choose abstract pieces in muted shades, images of landscapes that remind you of favorite places, or framed children's drawings—these will serve to brighten your workspace and turn it into a space you actually want to spend time in. Forgo the basic home office supplies for more design-forward essentials, like sculptural brass tape dispensers or minimal marble clocks.
Bringing greenery into your home office is also a good way to improve focus and mental outlook. Whether you opt for a large potted tropical plant or a collection of small cacti for your desk, bringing nature into your workspace has been shown to improve productivity, reduce stress, and boost oxygen levels.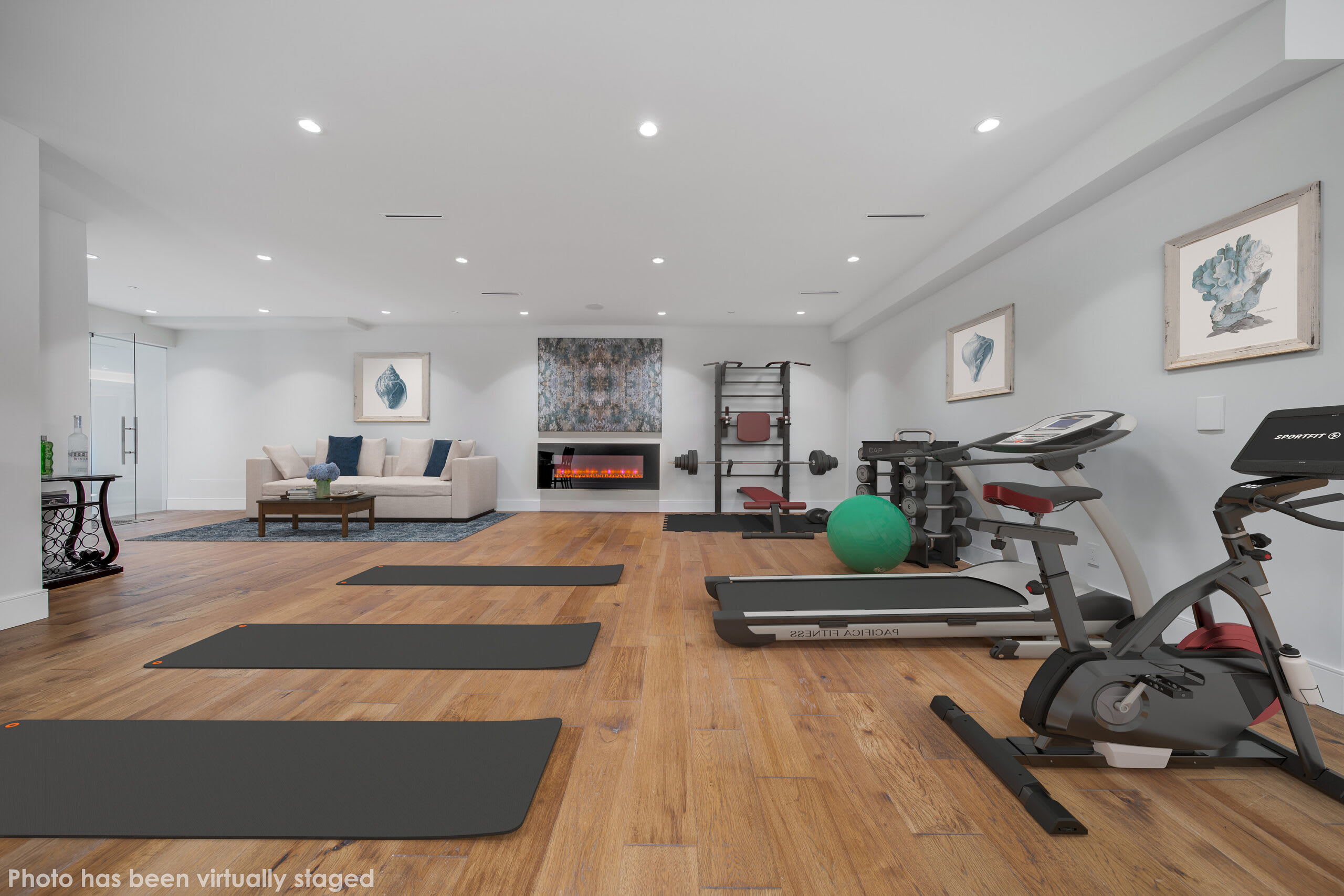 1760 29th Street, West Vancouver, BC
Establish a Fitness Corner
One of the best ways to boost your energy levels during a remote workday is with movement. It can be easy to lose focus or become distracted at home, especially when starting a new routine in a new space, so allowing yourself scheduled activity breaks will help you keep your attention where it needs to be.
If possible, find a spot in your office where you can establish a fitness corner and furnish it with your favorite equipment. If lifting weights helps you process your thoughts, add a bench and weights in varying sizes for a quick 10-minute lift session. For yoga enthusiasts, find a permanent spot for a mat; for fans of virtual fitness classes, create a dedicated space in front of your computer so you can join in without needing to reconfigure the room every time. By adding a fitness space into your work area, you'll give yourself permission to take a much-needed pause, while replacing movement between meeting rooms or to colleagues' offices with other exercise throughout the day.
Making a home office work for you is as much about inspiration as it is about functionality. Good office design contributes to an overall sense of well-being and improves effectiveness, something that all remote workers can benefit from.
---