M
eet three Canadian architectural firms who are using their talents to make an impact on society. In this age of mounting social and political activism, architects are making a powerful statement in their own right. They're tackling issues close to their hearts, from helping the homeless to supporting the cause for sustainable food and building better cities through design. We've rounded up three leading Canadian architectural firms who are boldly breaking new ground — with a conscience.
THE INNOVATORS
StudioAC, Toronto
​​​​​​​
Food trucks and pop-up shops are regular fixtures on Toronto streets. But if architect Jennifer Kudlats has her way, mobile showers will soon be, too. Kud- lats is part of the design team at Toronto-based StudioAC (a.k.a. Studio for Architecture and Collaboration) that is transforming a 50-foot trailer into mobile shower units for the homeless, which will move from shelter to shelter this fall. "Many shelters have people come and stay but [have] no shower and plumbing facilities for them to use. The bigger idea [in providing showers] is allowing people to have a moment of dignity," says Kudlats. "In terms of design, it's what you'd imagine a high-end residential bathroom to look like, with beautiful light fixtures and in-floor heating."
EACH UNIT HAS A SKYLIGHT & INCLUDES A LUXURIOUS SHOWER, TOILET & VANITY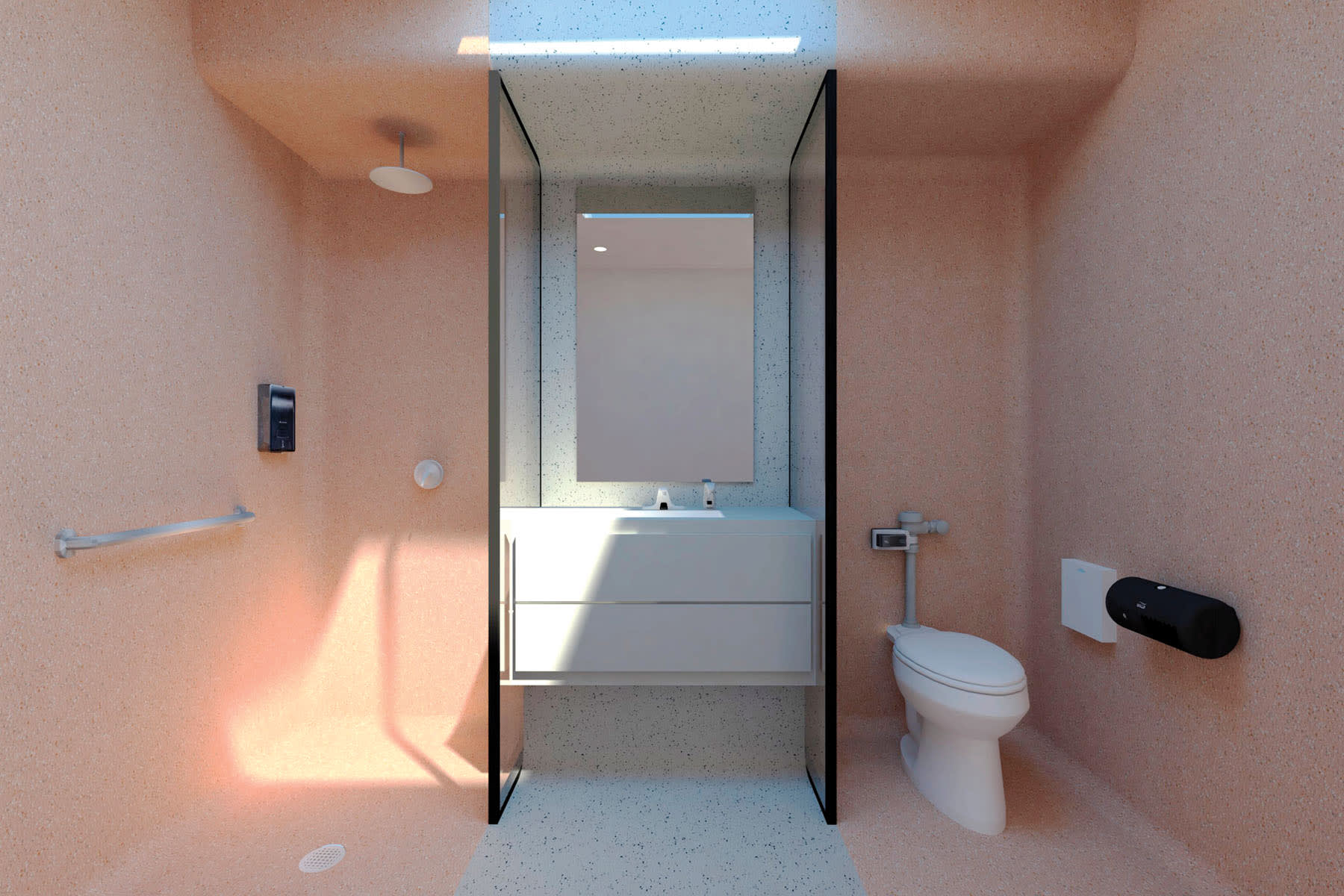 When approached by World Changers — a Christian charitable organization in Toronto — with its groundbreaking idea of a mobile shower program, StudioAC jumped at the chance to help create social change. The studio, known for its sleek, modern living spaces, took inspiration from the Truck Art Project in Spain, which show- cases the work of street artists on the exteriors of commercial trucks. StudioAC is also in talks with the City of Toronto on a public-art component to the project — graffiti artists creating original murals on the trailers' façades. It's a way of making art accessible to the masses and with a deeper meaning of bringing awareness to the issue of much-needed facilities for the homeless.

"There will be skylights in each of the [truck's] three showers because we wanted to bring natural light into the space," says StudioAC's Reza Nik, who's heading the pro bono project. "There is a lobby space with towels and lockers. It wasn't about maximizing the number of people who can use it but allowing individuals to sit down and take a moment."
---
WOODWARD'S RE-DEVELOPMENT, A MIXED USE PROJECT IN DOWNTOWN VANCOUVER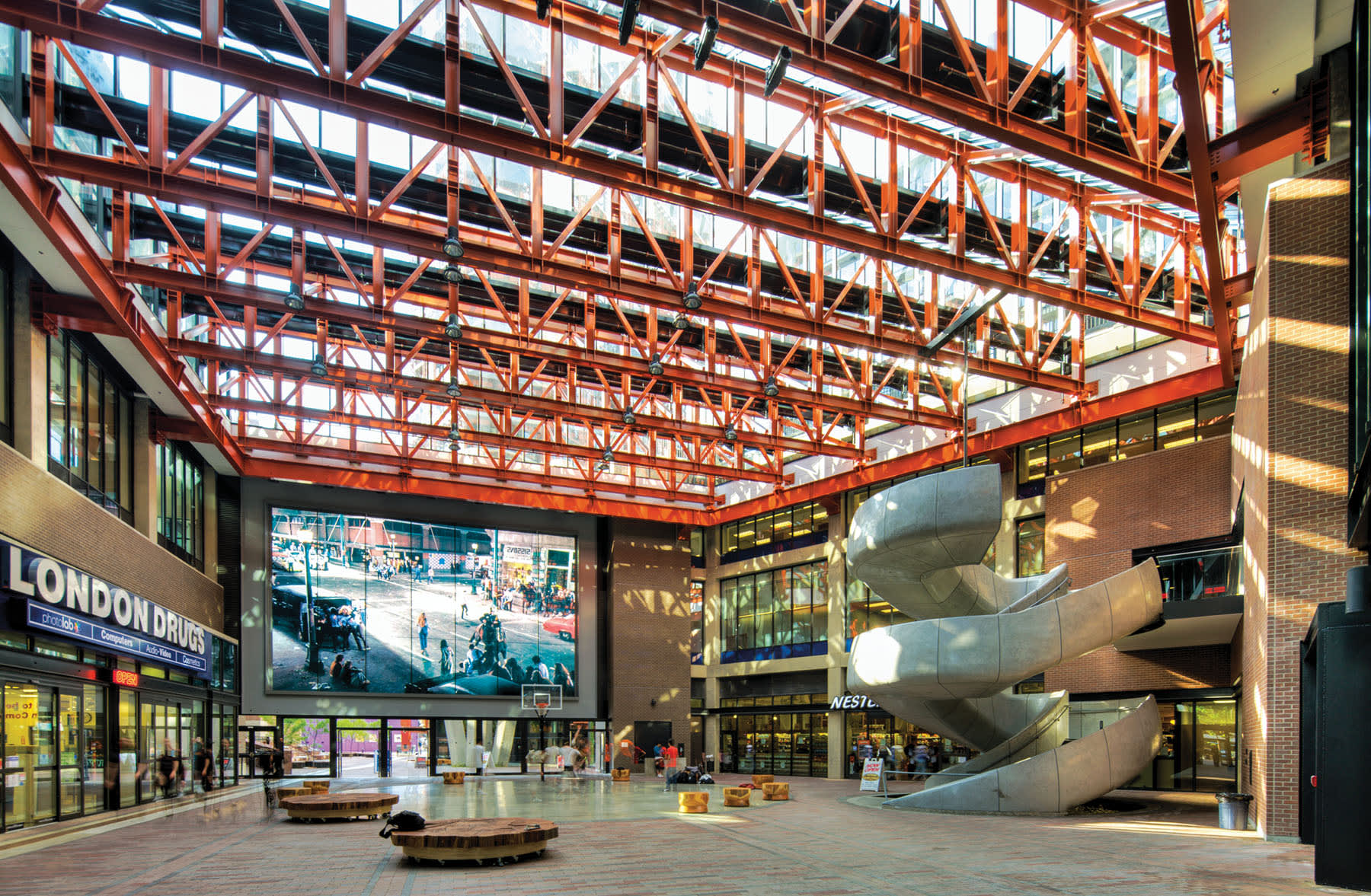 The City Citizens

Henriquez Partners Architects, Vancouver

Gregory Henriquez is on a mission to end homelessness in Vancouver and beyond. In 2010, the managing partner of Henriquez Partners Architects unveiled the revamped Woodward's Redevelopment in the city's Downtown Eastside neighbourhood. The massive socially inclusive project — which includes 200 non-market housing units as well as retail shops, an urban green space and a public plaza — was instrumental in transforming a once-gritty area into the hipster haven that it is today. Not surprisingly, Henriquez is a proponent of inclusionary zoning, a land-use planning tool that requires affordable housing units to be included in residential developments of a certain size.

"We're very excited about creating more inclusive cities," says Henriquez, who has since taken on a slew of similar pro- jects, such as Oakridge Centre, a shopping mall-turned-full-on- town centre slated for comple- tion in 2025. (it's the largest development in Vancouver's history and, in typical Henriquez form, will incorporate both rental- and social-housing units).
---
RENDERING OF THE COMMUNITY-ORIENTED RECONSTRUCTION OF MIRVISH VILLAGE, A LOCAL LANDMARK IN TORONOTO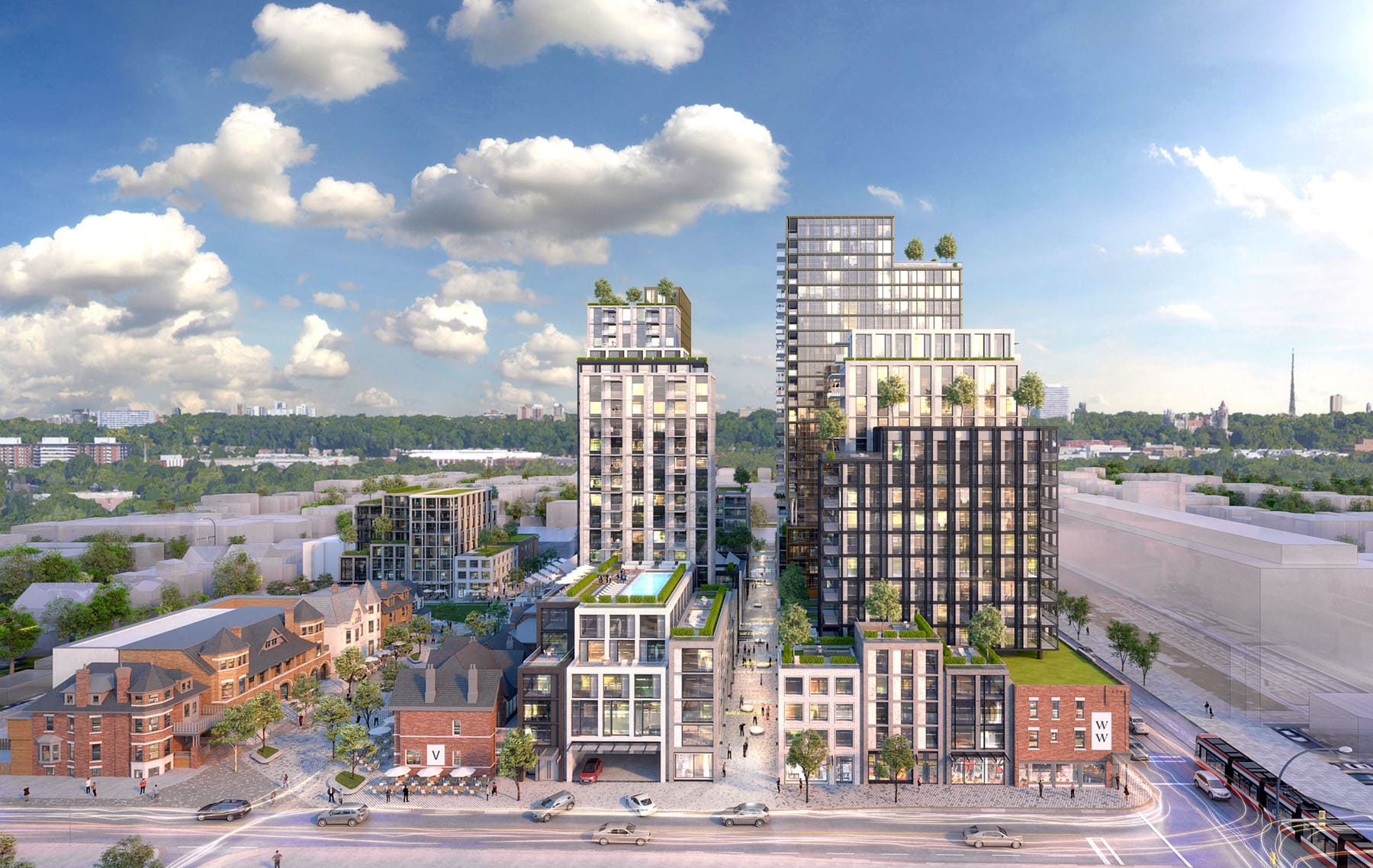 For Henriquez, an architect is an activist of sorts — some- one who can shape communities and create positive social impact. In his book, Citizen City, published in 2016, he encourages young architects to engage civically and act as a liaison between the needs of a community and the financial incentives of developers. That's precisely the role Henriquez is now playing in Toronto, in one of his most high-profile projects — Mirvish Village (home of the iconic Honest Ed's discount store, a city landmark that closed in 2016).

Currently in pre-construction, the 1.8-hectare (4.4-acre) site will include more than 800 rent- al units — a rarity in Toronto's condo-saturated core. "We were chosen to work on this project because of the left-leaning, social-activist neighbourhood. It was the most robust community consultation in the city. It took three years," says Henriquez. "There's a very large pedestrian- friendly realm with a landscape that's more like Europe, with piazzas. A whole new concept was derived from listening to the neighbourhood, such as pop-up retail along the alley… and we're talking to [international documentary festival] Hot Docs about playing outdoor cinema at night. It's really community-oriented."
---
The Cultivators Woodford Sheppard Architects, St. John's Chris Woodford and Taryn Sheppard — founders of Woodford Sheppard Architects in St. John's, Newfoundland — have mastered the art of building buzzworthy structures while maintaining a site's unique heritage. Case in point: O'Brien Farm. The 13-hectare (32-acre) property was operated by the O'Brien family for more than 150 years until 1998, when the last descend- ant passed away. It is now an historic site, and the O'Brien Farm Foundation is aiming to preserve the farm and make it a visitor attraction.
A RENDER OF A RESTORATION PROJECT BY WOODWARD SHEPPARD ARCHITECTS - O'BRIEN FARM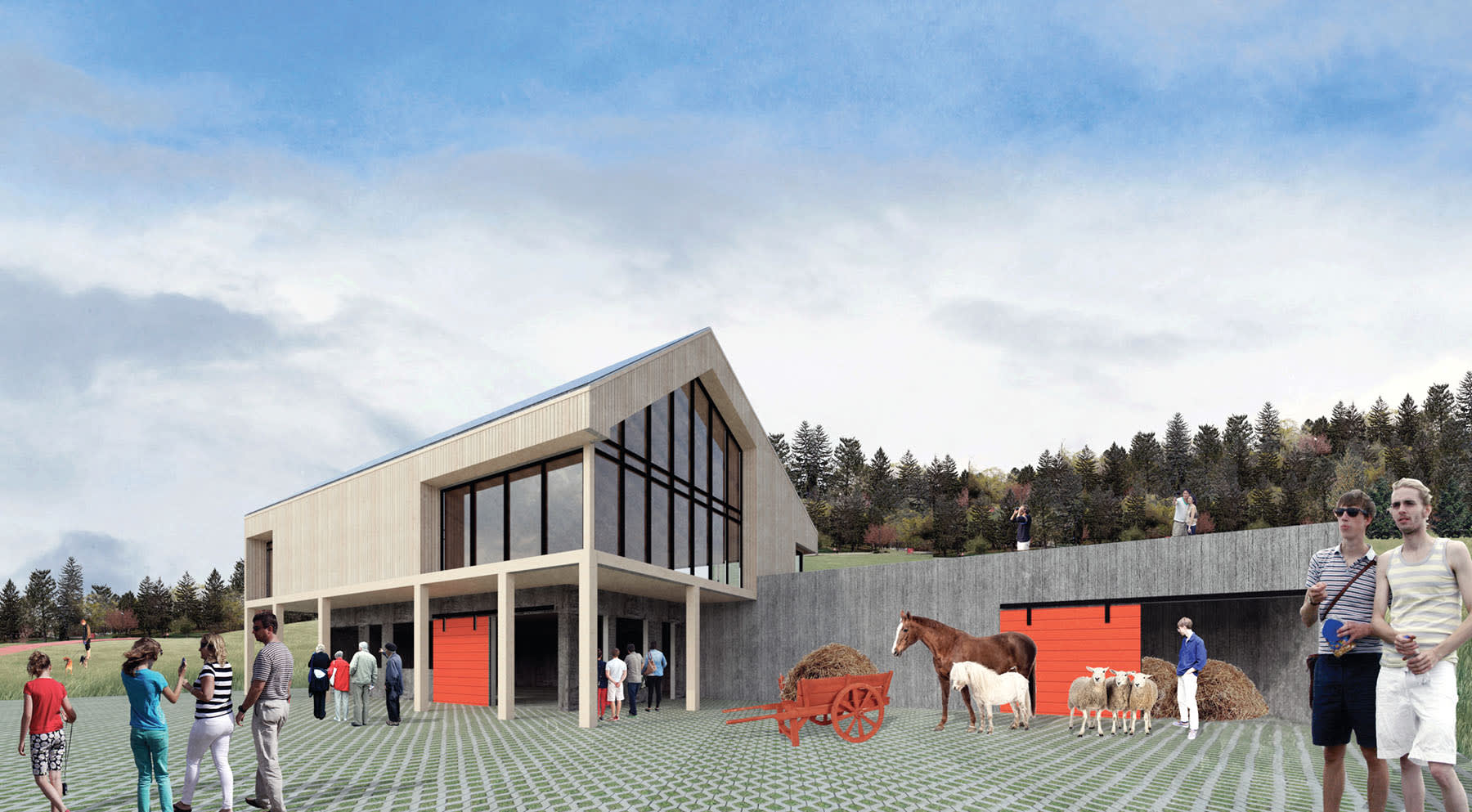 Woodford and Sheppard volunteered to help raise funds for the project with a "farmhouse chic" proposal (think traditional- style barn alongside an edgy contemporary learning centre for urban farming). "It could have easily become a subdivision of vinyl-clad houses," Sheppard points out. "We wanted to save the history of the site. Our goal is to celebrate old heritage buildings and contrast it with newer materials."
​​​​​​​
The team has the additional challenge of factoring in the harsh climate. "We try to make use of the rugged nature of the Newfoundland coastline — our high wind loads, high snow loads — and find an aesthetic in those details," says Sheppard. "This is especially true in the ru- ral areas that see an abundance of precipitation." For one of their recent projects, a residence in the town of Eastport, they focused on making the space energy-efficient by including south-facing glazing on the exterior to keep the house warm and planting local species on the property to block the winds.
---
ST. THOMAS COMMUNITY CENTRE IN PARADISE, NEWFOUNDLAND WAS REINTERPRETED IN A MODERN CONTEXT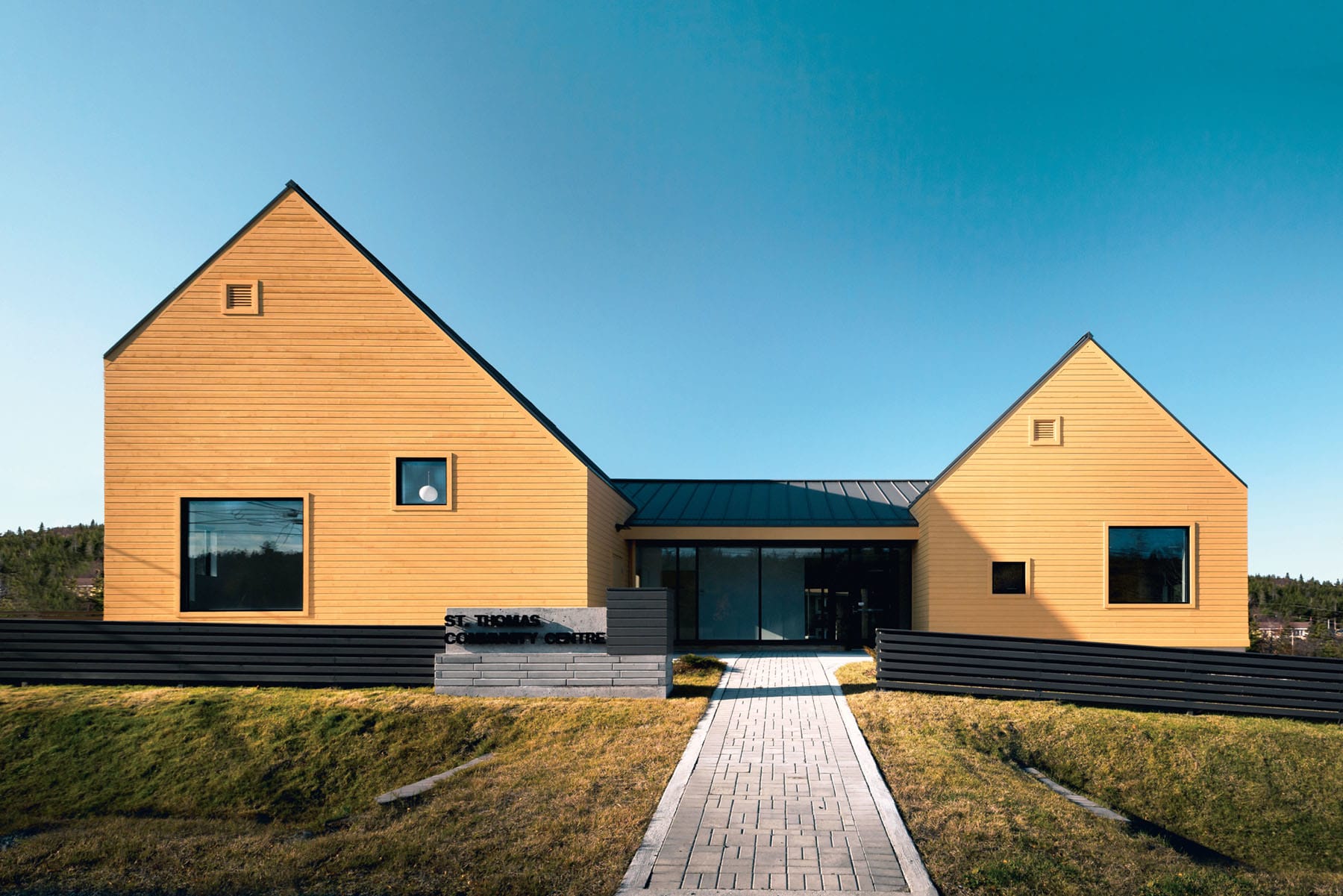 The duo is excited about O'Brien Farm's potential from an architectural standpoint, as well as what it will do for the community. "In Newfoundland, most of our food is imported. The site was an actual working farm with chickens and other animals. By turning it into a learning centre, we're helping to stop farming techniques from being lost," says Woodward.

"That kind of an urban farm doesn't exist in most places any- more. People can now learn how to grow vegetables in their own yard. That is pretty amazing."

By Shawna Cohen – *This article originally appeared in

Photography by: Bob Matheson
---
RELATED ARTICLES
---